Church on a Mission in its Sixtieth Year
Written by: Shirley Richards, Photos: Odayne Ferguson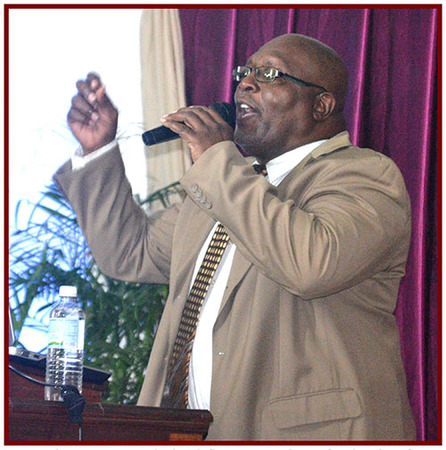 The Christ for the Crisis Evangelistic Series exploded into the Drewsland Community surrounding the Washington Gardens SDA Church on Sunday, January 28, 2018 at 7:00 pm. Evangelist Noel Morgan was charged and overflowing with the Holy Spirit as he expounded on the topic, "Crisis in Jamaica".
Using recent events and graphic visual details, the evangelist highlighted the crisis that is deepening on the Jamaican landscape. Through a careful outline from the scripture he established in the minds of the congregation how the conflict started in heaven, was transferred to earth through the influence of Lucifer and is affecting the lives of every human being. It was clearly demonstrated that the only way to survive the crisis is by choosing Christ.
EJC officials, Pastors Carl Cunningham, Sabbath School & Personal Ministries Director and Linton Williams, Executive Secretary of the Conference and son of Washington brought greetings from the Conference, declared the official start of the crusade and participated in the evening's service.
The service was rich in all respects. A cadre of youths led out in the praise and worship session during which a number of lively Caribbean flavored choruses were sung. The Crusade choir's rendition of 'Ride on King Jesus ' and 'Troublesome times are Here' was well received by the congregation and set the tone for the powerful message from God.
"The messages" stated the Evangelist, "are not only for the visitors, but for each and every member as everyone is exposed to crisis of one sort or another." The veracity of this statement was evident in the spellbound expression and sporadic response of the visitors and members alike. Even persons who had not entered the tent could be seen listening keenly.
In this the sixtieth anniversary of the Washington Gardens SDA Church, it is felt that a harvest of sixty or more souls would be a fitting response from the community as throughout the series, relevant solution-oriented truths are to be presented.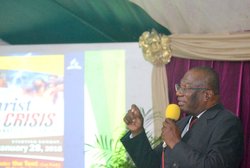 The Series will run for four Weeks and will be held on Sundays, Tuesday, Wednesdays and Thursdays at 7:00pm nightly and on Saturdays at 9:15am.
It was noted by Pastor Williams that the crusade launched by the Washington Gardens SDA Church was the second such to be launched in the conference since the start of the year and as such, highlights the Church's commitment to Evangelism.